Have you ever wondered what it's like to be able to control all of your devices at home with just a click of a button. This means all of your home products including light lamps, window shutters, television, thermostat, garage doors, kitchen appliances and door bells with everything else that can be automated. We're not in a far future where this is just a concept, but this actually already exists. It's called Internet of Things (IoT) and it's a main component of home automation. Imagine all of your devices connected with a unique controller. This can be your cellphone, a tablet or screen pads around your house. Being able to control items in your home, from windows to lamps, makes you want to control everything with just a push of a button. Just about anything that works on electricity can be turned into automated devices. Picture your morning starting with already hot brewed coffee, window shutters open wide for the sun to come in and your pets already fed. You're able to set schedule for some devices or set timers and sensors.
First thing you need to do is to familiarize yourself with the home automation concept. What do you want and how do you want it is the basic key to equipping yourself with perfect home automation protocols. Here are few of the best home automation protocols you can choose from.
Best Home Automation Protocols

Z-Wave is the leading smart home-automation technology that is inside every-day products like lights, locks, thermostats and other. This brand is also the most trusted one for your home security. Whether you want your home to be equipped with fantastic locking mechanism or you wish to set up all of your home appliances, this esteemed protocol is what you need. It's a wireless technology that connects all the smart devices in your home. Household products like lamps, doors, thermostats and many more are made "smart" once the Z-Wave connectivity is added inside the product.
First of all, your first purchase should be buying a Z-Wave hub. It becomes the heart of your smart home. Connecting all of your devices via cellphone, tablet or a PC, you're free to choose in which way you will monitor your technologies. Once you select your hub, you can start to select your automated devices. You're offered a list of brands that are supported by Z-Wave protocol and it has the largest selection of products available.
Buy Z-Wave hub here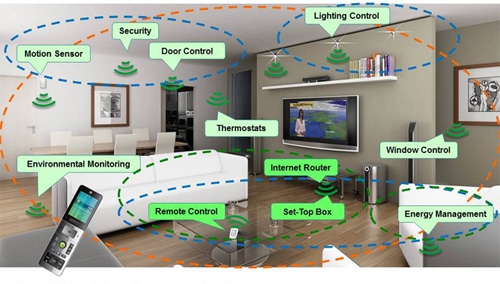 Just like Z-Wave, ZigBee also offers a wide range of products that you can use in your home to make it more automated. ZigBee Alliance is a non-profit association of approximately 450 members developing innovative and reliable ZigBee products. It's the only global, standards-based wireless solution with a large variety of devices to improve  comfort, security and energy management in your home. This protocol allows you overall monitoring of your lightning, from LED fixtures, bulbs and switches. Make a greener home with easy-to-use controlling system of your house's lightning devices.
In addition, if you choose ZigBee as your main protocol, get to know the ZigBee Smart Energy standard which monitors, controls and informs you of the delivery and usage of both energy and water. It is used to improve smart meters and Home Area Networks allowing you to monitor your energy use by connecting it to the smart grid. Smart Energy provides you with information regarding your energy consumption, giving you insight on how and where to reduce energy consumption and save money.
Buy ZigBee hub here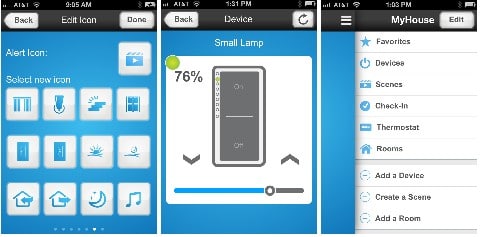 You can easily install Insteon on your own, without the need of expertise or home automation knowledge. Choosing your Insteon hub opens up the list of products that can be connected to it, and putting it on your wall is simple and easy for anyone to do. All you need to do is connect it to power outlet and your home's internet router. Control your lights and appliances, configure devices to turn on and off on schedule, create scenes to control multiple devices simultaneously and get instant alerts of the movements around your house.
Buy Insteon hub here

X10 home-automation protocol began with its work in 1970's which makes it one of the first ,if not the first, automation standard. For 40 years they've been improving and creating new ways of making smart home appliances and devices. Their SecuriLink Home Security System is one of the best there is, giving you the complete integration with X10 Home Automation. All products related to security, such as motion,glass break and window sensors, transceivers and cameras are at your disposal. You can choose either wireless or wired connection to your devices and a simple control by wireless transceiver or a timer kit. You are also given the variety of options for picking your controllers. From a wide range of remote controllers, wall pads, keychain-like controllers or palmpads, choose the best solution for controlling and monitoring your house. Secure your home with this number-one home security system and equip your house with the best gadgets and devices on the market.
Buy X10 controller here
Even though the idea of smart homes and automated devices is still in the progress of becoming worldwide used, it's already on the market and available to everyone. All you need to do is to choose the best home automation protocols for your home. If you want to gain automated control of your kitchen appliances, dim your lights and even change the light color or you want to create the safest environment in and around your house, start planning on how and where to begin with automating. You have a choice of which protocols to have and how many products you wish to be automated. Begin with creating your house a "smart home" and take your house functions to the next level. With these protocols, you're one step away from living in the future where technology works at its best, leaving you with more free time to spend and a greener and safer environment to live in.
So, here is everything there is about best home automation protocols!