HomeSeer
HomeSeer is another home automation system for your home. More on other home automation system you can see in our previous article about automation systems.
Advantages of preset systems is a good connectivity, simplicity of use and easy setup of connected appliances. HomeSeer were first introduced in 1999 and was the first company to integrate Z-Wave technology.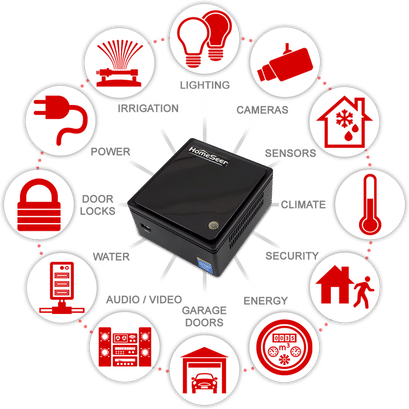 Advantages
No internet needed
The big number of home automation systems depends on internet connection in order to work. Homeseer doesn't need the internet connection to work so you don't have to worry about your home automation to stop working if the internet is not available.
Assistance
You can get professional help in selecting components that fit your needs perfectly. You can even buy only control system and add components later.
Features
HomeSeer offers all the features you can think of, and even some that would never cross your mind.
Control lights based on time & occupancy!
Control thermostats based on schedules & occupancy!
Ensure entry doors are closed & locked remotely!
Monitor video cameras with your phone or tablet!
Automatically shut off water when leaks are detected!
Keep tabs on your secondary home or rental property!
Receive spoken alerts, announcements & reminders!
Control energy costs based on usage and projections!
Control and program your home by voice!
Ensure garage doors are locked before bedtime!
Control audio & video equipment around your home!
Detect vehicles entering or leaving your driveway!
Customize your smartphone or tablet screens
Completely power down audio & video equipment and other appliances at night or when not in use!
[amazon-related-products keywords="homeseer"]
Protocol compatibility
HomeSeer is compatible with almost all home automation protocols including major Z-Wave, ZigBee, Insteon, X10, UPB.

Disadvantages
Complicated for beginners
When you are new in home automation systems, having a lot of choices is not always a good thing. Their product descriptions are minimal and we would like it to be a bit more descriptive.
No starter kit
Starter kits in this kind of technology are must have. You want to get in the home automation but everything is a bit much for you? Starter kits solve your problems by giving you basic products that are simple to use.
30 days support
Buyer has only 30 days of free phone support which is a bit strange. This is a new technology and it's expected that you will have a lot of question and will need help for more than a month. After 30 days you need to pay for phone support.
Conclusion
HomeSeer is a one of the best all in one home automation products that give you maximum flexibility and compatibility with most protocols used today in home automation. Customers should know what they are looking for ahead of time in order to save time and frustration. Overall, this device makes a great entry controller for those wanting to get into home automation.